Yes, you heard that, right! Not only humans have issues with how they behave, but birds also have their behavioral issues. Although it becomes difficult for us to understand why our beloved bird is acting in a certain way, there are ways using which you can understand what your feathery friend needs. For instance, some of the behavior problems in birds may be the result of some psychological stress or physiological issues. And do you know that these birds are brilliant! That's why they also tend to get bored quickly. This tendency commonly leads to some typical behavior issues in birds.
Therefore, you must know your bird needs and how you can meet those needs to prevent these lovable creatures from turning into savages. Some of the behavior problems in birds are given below:
Common Behavior Problems in Birds
| | |
| --- | --- |
| | |
| | |
| | Parrots, mainly seen in cockatoo species, African Grey Parrots, macaws, Eclectus Parrots, conure species, and Grey-cheeked parakeets. |
| | |
| | Pigeons, Budgerigars, and ducks |
| Sham or "vacuum" dustbathing | |
| Jealous, over-possessive parrot | Parrots, pigeons, vulture |
| | Cockatiels, lovebirds, budgerigars, some Aratinga sp. (small/medium conures). |
| | Psittacine families, such as macaws, African greys, and other parrots |
| | All breeds especially parrots |
| | All breeds especially parrots |
| | |
| Chronic Sexual Stimulation | Small birds (budgies and cockatiels) and larger birds |
| | Parrots especially budgerigars, cockatiels, parakeet |
| Refusal to interact with people they know | |
| Refusing to eat or overeating | Small birds, such as budgies (parakeets) and cockatiels. |
| Excessively flapping their wings | |
| Lack of sleep, extremely restless | |
Toe Pecking
One of the least common behavior problems in birds caused by captivity is Toe pecking. Such behavior problems in birds occur when a bird pecks the toes of another bird with its beak. This behavior occurs due to a lack of salts or a deficiency of other nutrients. In some cases, birds show such action due to more lighting in captivity. 
According to research, hens facing toe pecking have enlarged adrenal glands as compared to others. Thus, it causes physiological stress. As a result, toe pecking leads to open wounds. Therefore, there is always a threat to the development of disease and infection. Although, in severe cases, mortality is possible. These bird behavior issues are found in ostriches and hens.
Symptoms
If the birds are exposed to Toe pecking, you will observe the following behavior issues in birds:
Birds are stepping off a raised surface quickly.
Height phobia.
Depressed behavior.
Birds are losing weight.
Treatment
To treat this problem, we should follow these instructions:
Try to avoid cannibalism.
Remove the affected bird.
The use of anti-peck mostly helps to cure.
Feather plucking
Feather plucking is also known as feather picking, refers to a behavioral disorder which victimizes captive birds. As a result, birds start to pluck, bite, or chew their feathers with their beak, damaging their feathers. Sometimes, it affects their skin in some cases.
Parrots in captivity mostly face this behavior problem. Mainly pecked or plucked areas of the body could be the regions near to their beaks, such as the chest, inner-thigh, flanks, neck, and ventral wing of parrots.
Somehow, flight feathers and tail are barely affected as they are away from the beak. Contour and down feathering is generally identified as the main targets. Although in some cases, tail and flight feathers might be affected. It is one of the typical behavior problems in birds.
Symptoms
To find either your bird is facing such a behavior problem or not, check out the given list of symptoms.
Bend or damaged feathers.
Injured skin.
Depression or stressed behavior.
Treatment
For treatment, follow these instructions:
Balanced diet plan
A suitable environment for birds. (Temperature, sunlight, humidity).
Provide for the proper place of rest for birds.
Less boredom, fewer chances of feather plucking.
To know more about How to Get a Bird to Stop Plucking Feathers? Read more.
Stereotypies
The abnormal behavior of birds due to the external environment refers to Stereotypies. Specifically, birds kept in cages are frequent victims of this problem. As a result, the bird reacts contradictory to its normal behavior.
Symptoms
Stereotypies are a kind of disorder. Therefore, we can detect stereotypies in our birds through the following symptoms.
Rocking, pacing, and swimming in circles.
Most of the time, they are sleeping.
Self-mutilation.
They are biting cage bars.
Treatment
Stereotypies are recently discovered disorders. As a result, we have a small area of research on it. Therefore, to treat the affected bird, we should follow these instructions.
Avoid social distancing.
Keep your birds in small groups or pairs.
Provide them an excellent environment to play and learn.
Polydipsia
Polydipsia is one of the behavior problems in birds. It occurs when birds intake an extra amount of natural substances or toxins. For example, foods like chips, crackers, fast foods, and canned vegetables causing salted toxicity leads to Polydipsia. Therefore, if your bird comes in contact with Zinc coating used on cage bars, it may cause Polydipsia. Specifically, it affects ducks, pigeons, and budgerigars.
Symptoms
However, these symptoms will help you to find either your bird is at risk or not.
Lethargy
Increased liquid component
Weakness
Liver disease
Treatment
Treatment mostly depends on the situation of birds. For example, if these types of behavior problems in birds attack any of their organs, we medicate that specific organ. 
Although, for quick recovery, change in environment and diet also helps. Sometimes, in severe cases, one must go for inpatient treatment. Along with medication, good nutritional therapy is also useful for common bird behavior problems.
Sham or vacuum dustbathing
Sham or vacuum dustbathing is likely normal dustbathing, without any substrate. Moreover, research shows that birds kept in cages with no litter opportunity, mostly face these behavior problems. Therefore, the whole process seems like a normal dustbathing. But, in the end, we have no substrate, as mentioned above. It is one of the behavior problems in birds that occur mostly in hens.
Symptoms
During this phase of behavior, birds show the following signs.
Vertical wing shaking
Bill raking
Head rubbing
Scratching with one leg
Treatment
Batter access to litter.
Provide a pleasant environment.
Importantly, keeping the birds in pairs is also helpful.
Jealous, over-possessive parrot
Parrots are very emotional birds, and they don't open up to anyone easily. Parrots can become jealous of visitors and other pets also. And just like an overly jealous or possessive human, a jealous parrot isn't fun to be around. But why does a parrot get jealous? Mostly there is one family member that feeds, loves, or carries the pet parrot around. As a result, the bird becomes attached to that person, considering him/her as a mate. And whenever they feel that someone is trying to get their so-called mate's attention, parrots become aggressive toward the perceived threat.
Symptoms
When parrots get jealous, they act out physically. You should be keen enough to observe such abrupt changes because these changes need to be addressed soon. Otherwise, these behaviors become distressing for the bird, owner, and others as well.
Some parrots chatter loudly or screech.
They fan their tails.
Jealousy can take the form of lunging, chasing at the perceived threat.
Some parrots throw toys or start pulling out their feathers.
Treatment
You might have got where the issue lies. You need to socialize your parrot. And it is also essential that you train your bird to accept other people and pets. Take precautions to avoid this behavior.
Socialize the parrot. Every member of the family should know how to interact with and pet the parrot appropriately.
Minimize hormonal flair ups. Make sure that your parrots eat a healthy diet and get proper sleep. Prevent access to nesting materials. And develop a habit to stay on a play stand.
Take precautions when you observe jealous behavior with other people and pets. Cage your pet up and supervise its interactions.
Reinforce safe and loving behaviors with preferred treats, verbal praise, and loving scratches to the head.
Chronic egg-laying
Chronic egg laying is when the female bird lays more eggs than usual or lays repeated clutches of eggs. And it occurs in the absence of a mate. Apart from that, the bird cannot switch off egg-laying, which causes several problems in those birds, such as metabolic exhaustion, hypocalcemia, and egg-related peritonitis.
Many factors contribute to chronic egg laying. Birds genetically lay eggs in summer when days are longer. Therefore, when birds stay up late with their owners, they are in an artificial summer. One of the main contributing factors is that the single female bird is strongly bonded with her owner. Consequently, the bird is stimulated if you feed her from the mouth and strokes on her back. Moreover, other reasons include seasonal changes such as cooler to warm weather or high-fat diets.
Symptoms
Laying eggs more than normal
Treatment
Treatment requires specific changes that the owner should make such as
Feed birds nutritionally balanced diet
During the egg-laying period add extra calcium supplements
Reduce the "day-length" time of your bird
Discourage mating behavior with the owner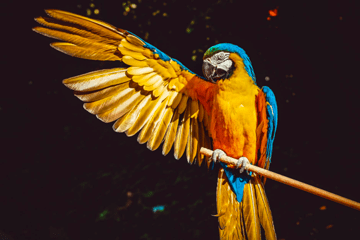 Screaming
Screaming is one of the behavior problems in birds. But one crucial thing to keep in mind is that some noise is natural such as birds need to be loud while communicating with their flock. However, your parrot is not happy if it screams in the same pattern for long. 
Some of the reasons that might be causing your otherwise calm and happy bird to scream are illnesses. Yes, the diseases resulting from nutritional deficiency or change in the family makeup or environment. Moreover, loneliness or boredom, fear, jealousy, or inadequate sleep due to household noise and cage location may also contribute.
Symptoms
Screaming/ loud squawking
Treatment
Remember that your goal is not to eliminate all loud squawking/screaming at all, but to decrease it to a tolerable level. Moreover, this doesn't happen at once. You have to be gentle and consistent. Furthermore, the treatment options depend on the cause. Therefore, reinforce the appropriate behavior and provide rewards for it. Positive reinforcement is the best option, i.e., giving a food treat, special toy, and verbal praise when your bird behaves correctly.
To know more on How to get your Bird to Stop Screaming? Click here.
Panicked so easily
Birds in the wild face a continually changing environment. But they, somehow, adapt well to different circumstances. On the other hand, our pet birds panic easily. They shy away from new items in their cage or new people. The reason is that many pet birds are raised in unvaried, mundane environments. As a result, they do not learn how to deal with surprises. And also, pet birds don't have the freedom of movement. They can't learn whether something is safe or not by noticing the reactions of their flock.
Symptoms
Stress Bars
Loss of Appetite
Aggression
Feather Picking and Self-Mutilation
Repetitive Behavior
Change in Vocalization
Fear
Treatment
What you need to do is that you should expose your bird to new activities, things, and new people as well. But don't forget to provide them the option to disengage before the situation escalates to panic for them. It means you have to add any new thing slowly. For instance, if you want to introduce a new toy, start by hanging the toy in the room or near the cage for several days. Also, observe the reactions of your bird.
Biting
Biting is one of the typical behavior problems in birds. However, biting is usually only an act of self-defense. Apart from that, you should also know that there is a difference between beaking and biting. Beaking is when birds use their beaks just like their feet to maintain balance items and grasp items. Whereas biting is lightning-quick and quite hard. And it is also accompanied by a specific body language such as "ruffled feathers."
Symptoms
Lunging, biting
Body language such as ruffled feathers
Birds bite for a variety of reasons such as self-defense, control, or dominance to mark their territory. During breeding mode, sexually adult males become aggressively protective of their mate and defend their cage. Similarly, birds may occasionally bite while playing when birds are ill or baby birds that explore their surroundings using beak.
Treatment
If you want to correct a biting problem, you need to determine the cause first. After determining the cause, be consistent in providing negative reinforcement for bad behavior and positive support for good behavior. In addition to fulfilling all the basic needs of your bird, you need to train it. However, if you don't know, contact a vet that can help you with that.
Common stressors
Just as humans get stressed by a variety of things, many factors affect our beautiful little beings. Different behavior problems in birds that we are discussing here are also the result of such stressors, such as picking or plucking.
Birds are intelligent creatures, and they have an excellent capacity to deal with change. But captivity deprives them of this capacity. Therefore, drastic changes in the home environment or family makeup, narrow range of activities, surroundings or people, or strife amongst the human flock, loss of flock mates, not interacted with regularly, or unsettling events can cause birds to stress out. Moreover, if you don't expose them to different living situations, they will not adapt to even minute changes in routine.
Symptoms
Stress Bars
Loss of Appetite
Aggression
Feather Picking and Self-Mutilation
Treatment
You need to acclimate a bird to multiple caretakers, varied surroundings, self-entertainment, and travel. As a result, your bird will be better prepared to adapt to changes in the environment.
Chronic sexual stimulation
Sometimes constant sexual stimulation results in behavior problems in birds. In turn, these behaviors serve as a means of coping with the stress generated by the persistent reproductive activity. Breeding in birds happens once a year, whereas, in captivity, birds can be stimulated by different factors more often, such as easy life with an abundance of rich food, nesting sites, and certain types of attention from owners. As a result, the secretion of hormones is reinforced. And if this occurs for long periods, it severely affects the health and behavior of the bird, consequently.
Symptoms
Eventually, birds need an outlet to vent out this frustration. And unfortunately, this outlet can be in such forms as:
Screaming
Biting
Feather damaging behaviors
Treatment
Be proactive enough to observe and discourage such practices in birds.
Discourage the behavior by distraction and redirection. To simplify it, redirect your bird's behavior towards good interactive play with you or toys.
Positively reinforce the appropriate behavior and use negative reinforcement for inappropriate behavior
Ignore the behavior
Biting their cage wire
Biting their cage wire is one of the typical behavior problems in birds, especially parrots. Gnawing is a natural behavior, but you need to find out whether it is reasonable or your bird is having some difficulty.  
Sometimes chewing is what ingrained in the DNA of birds such as cockatiels chew, break or shred various materials to build a nest and mark their territory when they mature. And if your bird does so, it might mean that your bird is mature enough now. Another factor includes grooming as your bird can use cage wires to keep her beak neat and trim.
Symptoms
Treatment
Treatment options depend on the underlying cause. On the one hand, it could be normal, whereas, on the other hand, you need to address the issue such as nutritional deficiency or boredom.
Refusal to interact with people they know
Sometimes people believe that their bird hates them, especially parrots. On the contrary, we can understand this as parrots are more comfortable with people who are pleased with them. In other words, parrots refuse to interact with their owner because they are no longer happy with them. And why this happens? Well! There are specific reasons for it. Something happens that confuses the parrot, and it, in turn, changes its behavior towards the owner. As a result, the owner's reaction also changes towards the parrot. Hence, the cycle continues.
Treatment
When we are angry, depressed, or frustrated, our energy gives them a hard time understanding. Therefore, it is better that, before interacting with the parrot, you check your energy levels. In short, take a slow breath and relax; your bird will no longer refuse to cooperate.
Refusing to eat or overeating
Both overeating and not eating at all can be a sign of a more serious underlying problem. This behavior issue is more common in parrots. Parrots are creatures of habit. And also they are extra picky by nature. In addition to that, if you find your parrot stops eating, you must immediately find the underlying cause and treat it.
In terms of overeating, boredom, parasites, and previously being malnourished are the main reasons.
Treatment
Remedy their behavior by understanding the cause. Options include switching from a seed-based diet to a pellet-based diet, changing the environment in which your bird feels comfortable. Lastly, consult with your vet if your bird doesn't resume eating and drinking normally again.
Excessively flapping their wings
Birds generally flap their wings to exercise. Indeed, these behavior problems in birds are often seen in parrots. Consequently, a parrot who is kept in a smaller cage usually does not have enough space to open its wings. Therefore, for proper exercise, they flap their wings. This excessive flapping can cause severe problems if the bird hits its wings hard against the bars of the cage.
Symptoms
Flapping their wings most of the time.
Restless
Treatment
Firstly, provide your bird with a battered space or a big cage. Secondly, try to play with the little fellow for natural exercise.
Lack of sleep, extremely restless
Since many domesticated birds are from the tropics, you must provide them 10 to 12 hours of sleep each night. However, many birds stay awake due to noise in the house or light in the room. As a result, sleep deprivation will occur, worsening their health, eventually.
Symptoms
Grumpy, aggressive or depressed
Behavioral issues
Treatment
Make sure that at night, you move your bird's cage to a quiet room. In addition to that, turn off the lights or use a cage cover.
Conclusion
Since it is our responsibility to provide food, care, attention, and a better environment for our pets, it is essential to know what could cause common bird behavior issues. We have enlisted some of the behavioral problems in birds. You can use this information to provide your pet birds a safe and sound life. Therefore, take good care of your birds and live a happy and healthy life with them.